Foxconn to Tata Airbus—Centre babysits Gujarat, Maharashtra costs big investment| Roadsleeper.com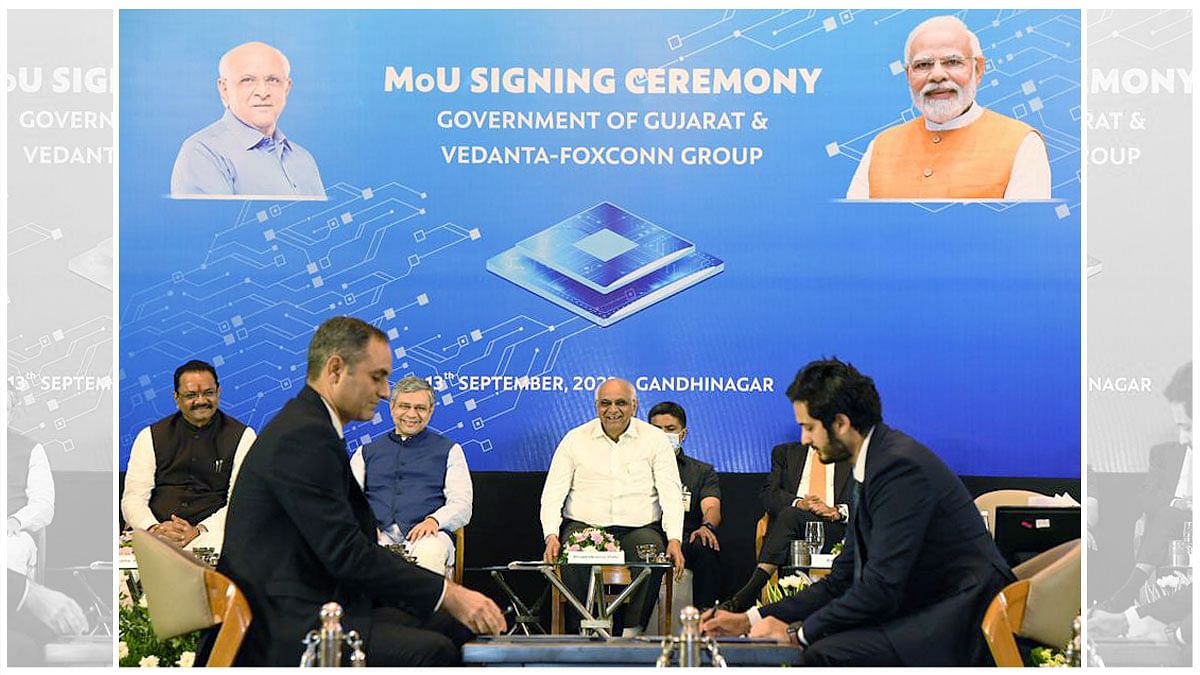 There there has been a lot of political debate about Gujarat getting big investments and Maharashtra losing them in the last three or four months. It is important to see the context of some of these debates.
Maharashtra and Gujarat are not just two states. They are neighbors and part of a federal structure. It is the same with states like Karnataka, Madhya Pradesh and Telangana. And logically, the problems that arise between Maharashtra and Gujarat should arise between the former and its other neighboring states.
Investment in Gujarat depends on a pre-planned design where the socio-political will works in favor of the state. And this has been the case ever since Narendra Modi moved from Gujarat to become the Prime Minister. Anandiben Patel became the Gujarat CM in place of Modi and she led several campaigns and investment summits in Mumbai to attract companies from the Maharashtra capital to Gujarat.
The Maharashtra-Gujarat rivalry is deep
Maharashtra and Gujarat have historically been competitive. In 1960, when Maharashtra was carved out as a separate state, there was a demand for Mumbai to be the capital of two states – Gujarat and Maharashtra. But the people of Maharashtra were strongly against it.
For the migrants from the drought-prone villages of western Maharashtra, those who left their villages due to caste conflicts to become more accepted in an urban environment, or the villages in regions like the Konkan, whose economy was completely dependent on Mumbai, it was imperative that Mumbai remain a part of Maharashtra.
Maharashtra clearly won the territorial battle. Since then, the state has had to coordinate with successive central governments. For years, across governments, Maharashtra has always had a constant complaint of not getting back as much as the state gives in taxes. The devolution of taxes to Maharashtra and the infrastructure investment by the central government in Maharashtra has not been commensurate with how much the state is giving.
But there was never an overt complaint of any state getting all the coveted business and investment like how Gujarat has now been accused.
During Atal Bihari Vajpayee's government, LK Advani was a Union Minister from Gujarat. But it never felt like Gujarat got any special treatment.
Even then it wasn't crazy. At the time, the Shiv Sena consistently highlighted how the BIMARU states (Bihar, Madhya Pradesh, Rajasthan and Uttar Pradesh) created an additional burden for Mumbai. It was always a sore spot.
Shifting industries to Gujarat at the expense of Maharashtra is like amputating a part of the state's body. For example, the Centre's decision in 2015 to have an international financial center in Ahmedabad instead of Mumbai was a jolt for Maharashtra.
---
Read also: Municipal corporations should be at the forefront of India's air pollution battle
---
Center Babysitter Gujarat
When Narendra Modi became the Prime Minister after a long stint as the CM of Gujarat, voters of Maharashtra expected his experience to help in Maharashtra's development. I was the coordinator of one of Modi's meetings in Pune where he promised to set up robust institutions related to finance and planning in Maharashtra. He had praised institutions like the Gokhale Institute of Politics and Economics and the National Institute of Bank Management.
But when he was elected in 2014, things changed. On one hand, he gave Rs 78,000 crore for an international finance sector in Ahmedabad in the form of GIFT City. On the other hand, the Center announced a gems and jewelery cluster and a diamond exchange in Gujarat, threatening businesses in Maharashtra.
Since 2017, a Naval Police Training Institute was shifted to Gujarat's Dwarka from Maharashtra's Palghar. In 2022, Gujarat officially made some major investments like Vedanta Foxconn's semiconductor plant in Dholera, a Bulk Drug Park in Bharuch and now Tata Airbus manufacturing unit.
In September this year, Maharashtra also lost the Centre's support for building a medical technology facility in Aurangabad. A proposal from Himachal Pradesh was approved instead.
What does all this mean? Does the Center feel that Maharashtra is fully developed and does not need any more investment? It is not. At the Human Development Index level, Maharashtra has always been somewhere in the middle, around fifth or sixth. If you take away Mumbai's revenue, Maharashtra has little left. The districts of Vidarbha, Marathwada and the tribal districts of Nandurbar and Dhule all need employment opportunities and investment.
It is not that Gujarat's infrastructure is better or that the state government there has shown any more political will than the Maharashtra government. The problem is that Gujarat is being babysat like a child in the lap of the Indian government and the center is being unfair to other states. This is a challenge for democracy.
---
Read also: Bihar, Haryana to Telangana – that's why Modi-Shah has big stakes in the assembly polls
---
Advantages of Maharashtra
In the 1990s, when the process of liberalization and globalization began, Maharashtra was at the forefront of attracting companies from various sectors such as information technology, banking, manufacturing, medical facilities, agro-industries and even creating a healthy structure of cooperative industries. There have been several water conservation experiments in Maharashtra. The concept of an employment guarantee scheme was something that Maharashtra has given to the country. In fact, Maharashtra has always set the direction for the country in best practices.
Maharashtra also has some distinct advantages over other states. There is a good socio-economic ecosystem with good schools and hospitals close to industrial hubs. It is among the leading states in terms of safety for women. As the Uttar Pradesh government tried to lure Mumbai's film industry, many industry insiders said they feel safer working in Mumbai. When a female artist works, it creates employment for three more women – the hairdresser, the make-up artist and the costume stylist. Everyone can finish work as late as 22:00 and 23:00 and go home, safely.
Mumbai's excellent connectivity is also a major advantage. Part of the credit for this also goes to the Centre, the Civil Aviation Ministry and leaders like Nitin Gadkari.
Every state needs to develop infrastructure and provide employment to its people, and all states should be given the opportunity to do so. We must have a cooperative approach instead of pitting states against each other to get investment. There may be an industry in one state and an allied industry in another. There can be technology sharing and states will work for each other in solidarity. But there is no comprehensive national perspective and states are busy having to compete with each other. In this way, they also lose to international players. The resulting development will definitely be a cool one.
Neelam Gorhe is a deputy leader of the Shiv Sena and deputy speaker of the Maharashtra Legislative Council. This article was narrated to ThePrint's Manasi Phadke.
(Editing by Ratan Priya)