Tata Motors continues its association with Jamshedpur Fc| Roadsleeper.com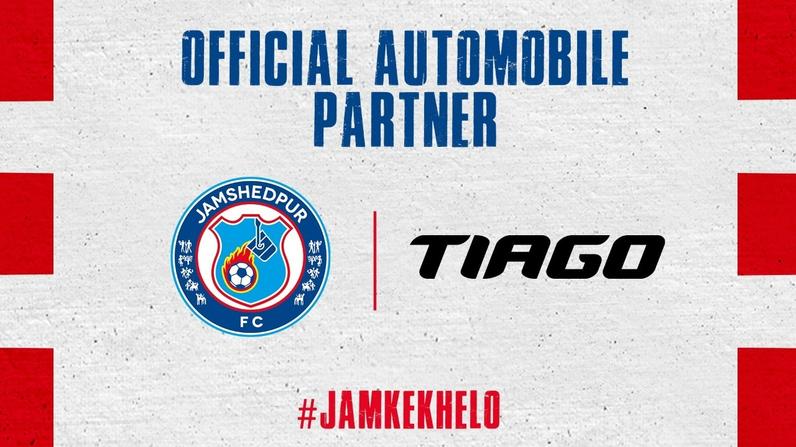 October 11, 2022,
Jamshedpur:
Jamshedpur Football Club announces continued partnership with global automotive giant, Tata Motors, as the club's automotive partner for the upcoming Hero Indian Super League 2022-23.
This season, the association will see the Jamshedpur-based Hero ISL side promoting the Tata Tiago, a young, fun, lively and safe car with a 4-star Global NCAP Safety rating.
Tata Motors has a rich history of association with various sports properties. The multinational conglomerate has been actively involved in the most important and biggest sporting events in India, including the recently concluded Indian Premier League. Tata Motors has been closely associated with Jamshedpur FC since the club's Hero ISL debut in the 2017-18 season and this is the third consecutive year of this remarkable association for the development of Indian football.
On continuing this association, Mr. Rajan Amba, VP, Sales, Marketing and Customer Experience, Tata Motors Passenger Vehicles Limited, "Sports is a great medium in India to bring different demographics together and helps to connect with our audience on an emotional level. We have encouraged sports in India and we are delighted to continue our association with Jamshedpur Football Club for the third consecutive year.This platform helps us connect with young people who make India proud with its sporting talent, just like Tata Motors.We manufacture a New Forever range of cars and SUVs, which stand for great design, safety features and superior performance, through cutting-edge technologies, for our customers in India. Tiago is a popular, fun slot and our research shows it is a favorite among customers under 30. With this association, we hope to further enhance our brand connection and wish all players a good season."
Jamshedpur FC Managing Director Mukul Choudhari was delighted to have Tata Motors continue the partnership. He said, "We have had a great partnership in the previous seasons and we are excited to scale up the efforts to make this partnership with Tata Motors bigger and better. To have a world-renowned brand like Tata Motors associating with us with the aim of developing football in India is a great motivation and we look forward to continuing this association with their fantastic new electronic vehicle, the Tiago which will be launched in the coming season."
The Jamshedpur FC match kit will carry the Tata Tiago logo on the sleeves and shorts. The brand new model of Tata Tiago will also be on display in the oven during Jamshedpur FC's home matches at the JRD Tata Sports Complex. As part of this association, the club also wants to engage with its fans through several interesting promotions and competitions on Jamshedpur FC's digital media platforms.
About the Tata Tiago
The Tiago was the first car to be launched under Tata Motors' Impact Design philosophy in 2016. Its design and styling was instantly loved by customers, resulting in a consistent increase in sales and market share over the years. It is also the safest car in its segment with a 4 Star Global NCAP rating. Over the years, the brand has evolved consistently with the introduction of new features, new powertrains and brand extensions.
With several first-in-the-segment features, the Tata Tiago reinforces Tata Motors' New Forever philosophy of stunning design, technology and exhilarating driving experience. The Tiago is available in both manual and AMT gearboxes. On January 22, Tata Motors revolutionized the CNG market with the introduction of India's most advanced CNG technology – iCNG in the Tiago. Its rugged and adventurous avatar – the Tiago NRG has also carved a niche for itself. The Tiago NRG's SUV-inspired design gives it a muscular look and its higher ground clearance along with retuned suspension provides a tough road performance for those on the go. The Tata Tiago is available for delivery across Tata Motors showrooms across the country, at a starting price of ₹ 5.39 lakhs
About Jamshedpur Football Club
Jamshedpur Football Club was formed in 2017 and is a wholly owned subsidiary of Tata Steel Limited. The club plays in the Hero Indian Super League, the highest level in India's football ecosystem, with the vision of producing top professional players for club and country and developing the community it works with. Over the years, Jamshedpur FC has had the highest average attendance in the Hero ISL since its inception in 2017 (an average of 20,508 over 3 seasons). Jamshedpur FC created history when they lifted the league winners' shield last season in their record-breaking campaign under former head coach, Owen Coyle. The Men of Steel will defend their title in the Hero ISL 2022-23 season and will aim to reach greater heights with the momentum they have gathered.
Jamshedpur FC comes with robust youth development, grassroots and coach training programs, where it has achieved tremendous success and commitment. The club has created 9 football schools in Jamshedpur with over 800 children engaged and another 5000+ children engaged through football festivals in the state of Jharkhand. The program has also seen a collaboration with the Tata Steel Foundation's 25 football training centers in the Kolhan region of Jharkhand where over 2500 children are trained regularly. The club's commitment to developing football in the region also included developing and training 200 football coaches in the region via various coaching courses.
To know more about Jamshedpur FC, log on
https://www.fcjamshedpur.com